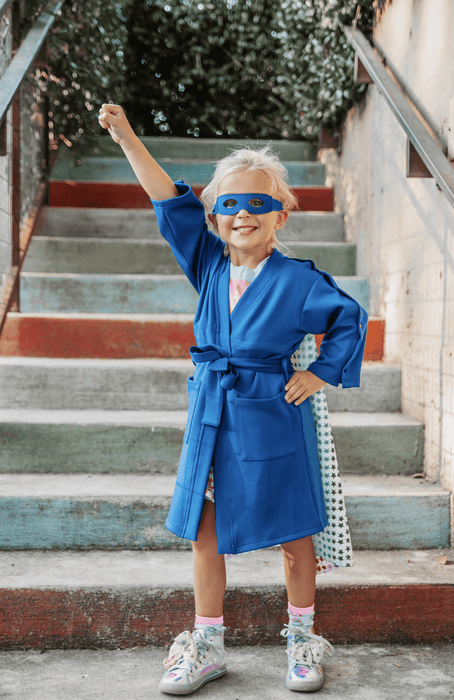 The Elliott Superhero Robe (Designed for Kids)
Original price
$79.99
-
Original price
$79.99
The Elliott Superhero Robe is designed for children battling cancer, chronic illness, or recovering from surgery. Just like our recovery robes for adults, these amazing robes have pockets to hold JP Drains, monitors, cords or other medical equipment. It also comes with snaps along the sleeve from the wrist to the collar bone to accommodate IVs, blood pressure cuffs and easy access to ports.
Why make a robe for kids?
The Elliott Superhero Robe was inspired by stories of parents going through this very hard time with their young children. 
This robe empowers parents to help their children feel like the Superheroes they really are.
The Super Hero Robe will come with the following:
(1) Anti-Microbial Super Soft and durable Blue Robe
(4) Interchangeable interior pockets 
(2) Superhero Capes in star fabric and Super Power Word Fabric
(2) Hats in the same matching fabric as the capes
(1) Blue superhero mask in same fabric as the robe
Created by Brobe founder Allison Schickel, this robe is available for precious children to give them Super Powers to stay strong and heal.
See CBS Nightly News News Piece & Meet Elliott
Elliott's journey, which is similar to so many others, helped inspire the Superhero Robe for Kids. Learn more about Elliott's story by clicking here. And you can follow Elliott's journey on Facebook: Praise Like Elliott 
Giving Back
Brobe will donate a portion of profits to a charity to support further research and the discovery of a cure for childhood cancer. We are honored to have the opportunity to support you and your children. We're all in this battle together.  ♥︎
If you'd like to donate a robe to a child in need, click here.