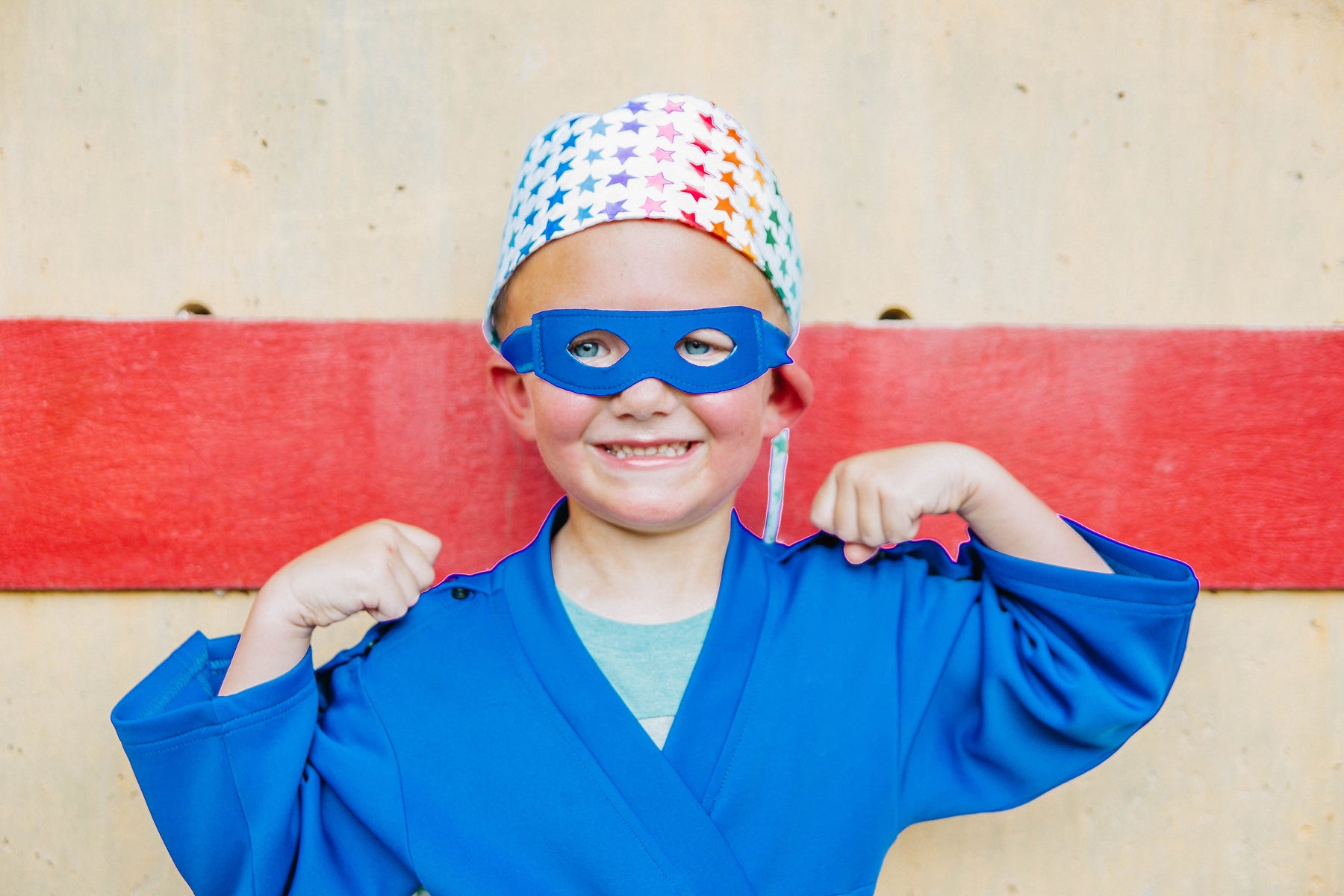 The Elliott Superhero Robe: Bringing Comfort and Joy to Children
Unfortunately, adults aren't the only ones who face cancer, surgery, and chronic illness. According to the American Cancer Society, around 11,000 children under the age of 15 in the United States alone will be diagnosed with cancer in 2020. Thousands more will be diagnosed with other chronic illnesses that require surgery or treatment. 
And like grown-ups, kids battling these diseases should be able to wear something that makes them feel comfortable and confident in the face of adversity— just like a superhero. Brobe International is honored to launch the Elliott Superhero Robe for children. Inspired by Brobe's signature product, the Recovery Robe, the Elliott Superhero Robe is designed to make recovery and treatment a little easier and bring a smile to little faces.
What's Special About the Elliott Superhero Robe
"This is a product I wish I didn't have to make," Allison Schickel, founder of Brobe International says. "These children are so bravely fighting illnesses they shouldn't have to, but if the Elliott Superhero Robe can bring them even a little bit of joy, then I've done my job."
The Elliott Superhero Robe gives children a fun and cozy garment to wrap up in at the hospital, doctor's office, home, and everywhere in between. But this robe isn't like the traditional garment that you buy in stores. It's equipped with features that make navigating recovery and treatment a little easier. Every Superhero Robe comes with:
Four adjustable and interchangeable interior pockets to hold medical equipment like monitors, cords, or

post-op JP drains

Sleeve snaps on each arm from the wrist to the collar bone, which gives doctors and nurses access to ports and IVs and makes exams easier 

Two superhero capes with matching doctors hats 

A superhero eye mask
Standard hospital gowns can be scratchy, thin, and awkward to wear. The Superhero Robe is made with a super soft, antimicrobial material, meaning that its design inhibits the growth of microorganisms that can be harmful to weakened immune systems. The goal is to bring comfort and confidence when kids need it most, all while being able to accommodate medical needs. 
"My hope is that the Superhero Robe brings out the inner superhero that lies within these children," Schickel says. 
The Elliott Superhero Robe was inspired by and named after a real-life superhero from Austin, Texas. At just three years old, Elliott was diagnosed with a stage 4 Wilms tumor that had already metastasized to her lungs. 
"She seemed like a normal three year old— until she wasn't," her mother, JaNett, explains. "Two days after her diagnosis, she underwent a nephrectomy to remove a two-pound tumor and the right kidney it was growing out of. After ten days in the hospital, she started chemotherapy."
Elliott went through a rigorous treatment plan with harsh chemotherapy, radiation, and an additional surgery to remove remaining tumors on her lungs. JaNett described the experience as earth-shattering and debilitating, but eye-opening to the good in the world that is all too often overlooked.
Their community stood behind the family in support. "Our church, our friends, and our close family members really rallied around us. They showed us that we REALLY have a 'Village' and I couldn't be more grateful to them for that."
Through it all, Elliott proved to be a strong and courageous fighter. Though no kid likes the hospital, she found positives in the situation. "She loves her doctors— LOVES them," JaNett says. "She has a group of her favorite nurses that took to her spunk right away, and of course Ms. Leah and Lorenzo, the child life specialist and her sweet pup who visited us regularly." 
In October 2020, just after her fourth birthday, Elliott and her family received the best news— she is officially cancer-free! She'll continue to have regular check-ups and scans, as well as appointments with a kidney specialist since she will live the rest of her life with only one kidney. 
We asked JaNett about the one thing she'd tell herself a year ago that she's learned through her experience with Elliott. Her reply was simple: cherish it all. 
"Cherish the wild, the free spirit, the carefree. It's such a cliche thing to say, it really is. Honestly, I had heard it a million times, as I am sure most moms have... but until this, it sounded like just something people say. I look back and miss the innocence in her. The little moments. The sense of fearlessness she had, and the wonder in her eyes. This journey takes that from these kids. I miss that." 
Reigniting Imagination with the Superhero Robe
One thing that Brobe International hopes to achieve with the Elliott Superhero Robe is to simply recapture a child's fearlessness, wonder, and innocence that Elliott's mom spoke of. Kids shouldn't have to sacrifice their imagination and creativity just because they are faced with cancer or illness. 
The Superhero Robe gives children in these situations the chance to simply be kids— to dress up, play pretend, and have fun without worrying about the devices that may be temporarily limiting them. 
When Elliott first put on the robe and cape, she immediately put her hands in the air and started running back and forth like a superhero. Our goal is to ignite the same excitement and joy in children dealing with illness around the world.
Pilot Program with Cook Children's Medical Center
Brobe is also thrilled to announce a pilot program with Cook Children's Medical Center, a nationally recognized pediatric hospital in Fort Worth, Texas. Through this partnership, pediatric patients at Cook Children's will get the opportunity to  we hope to bring the robe to little superheroes like the one that inspired its creation.
Where You Can Find the Elliott Superhero Robe
The Elliott Superhero Robe can be purchased online at www.BrobeKids.com. If you would like to give back and purchase a robe for a child in need, we've partnered with Austin-based fundraising company HelloFund to make that possible. Just leave a donation for whatever amount you'd like and we'll gift a robe to a child who needs it. 
The Elliott Superhero Robe comes in size 2T, up to size 9 and would make a great gift for a child with cancer, or one battling chronic illness, or disease, or for children undergoing surgery. 
About Brobe International
Brobe International is a small, female founded business based in Austin, TX. Our founder, Allison Schickel, is a mom of three and had the idea for a robe with a built in bra, but when a friend was diagnosed with breast cancer and her idea evolved to a robe with a built in bra and interior pockets to hold JP Drains for women recovering from breast surgery. Allison has had the idea to create a similar robe for children, and is thrilled to be launching a new product that hopefully empowers children battling cancer and disease, to fight and win!