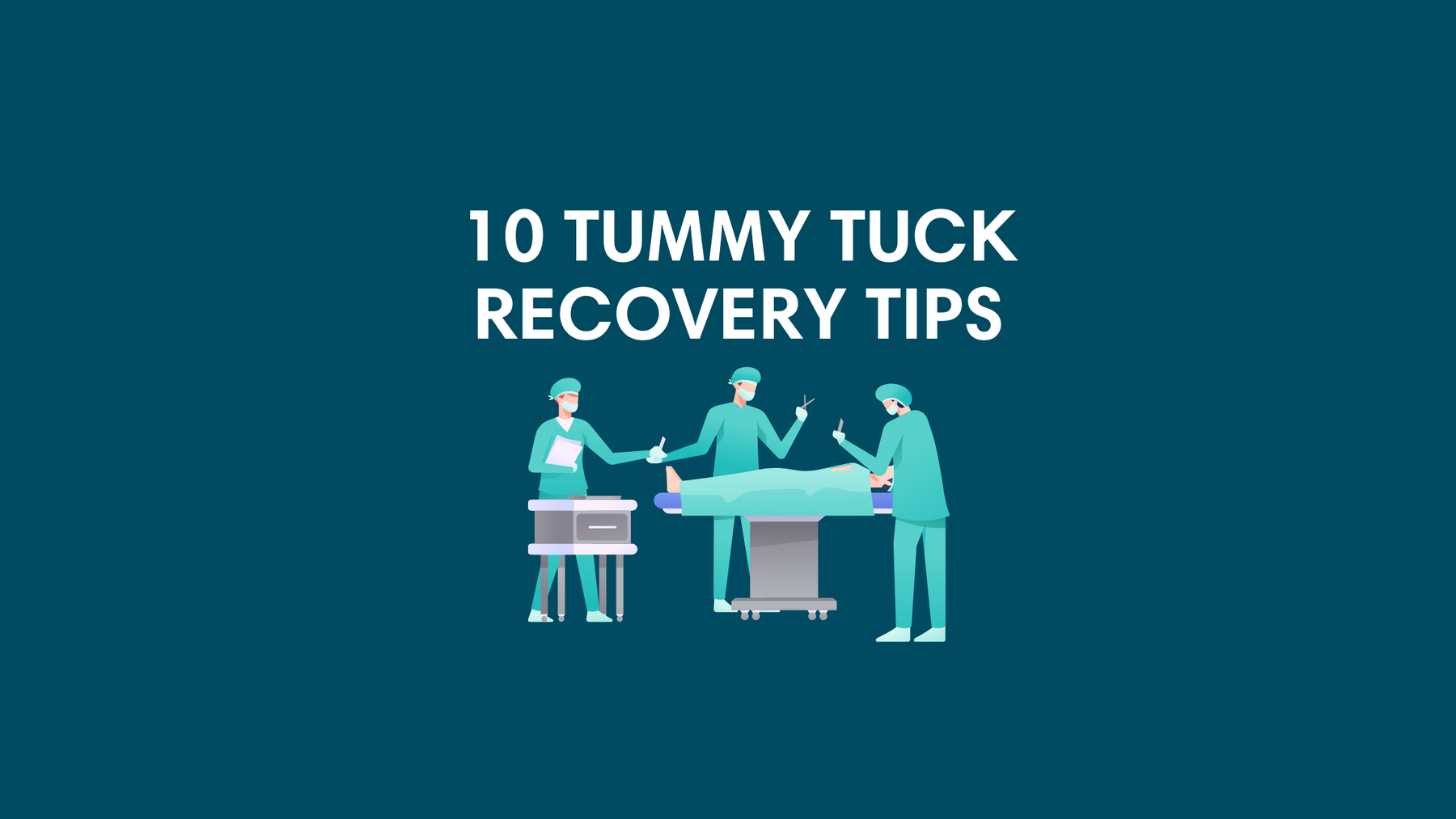 10 Tummy Tuck Surgery Recovery Tips
Getting a tummy tuck is major surgery, and we want to help you prepare for a successful surgery recovery.
Your belly will be sore and swollen for at least the first week after surgery. The skin on your stomach will be mostly numb for several weeks to months. Feeling will return slowly, but you may have a small area on your lower stomach that is always numb.
1. Make sure you are a good candidate: Though it may be uncomfortable, ask if you are a good candidate. A tummy tuck is not a quick fix for weight loss, though it can make you feel lighter and more confident. If you have recently lost a significant amount of weight, or if you plan to do so, give yourself time after you've changed your lifestyle, to ensure you can maintain your current size.
2. Make sure your surgeon is qualified: I know this seems like a no-brainer, but you do not want to go with the cheapest option from a surgeon promising a fast and easy experience. Make sure they are certified by the American Board of Plastic Surgeons, find out how many surgeries they've done that you're considering, and ask if they trained and if they operate in an accredited operating room.
3. Find out if you will have drains or a catheter when you go home: You need to know what your surgery recovery will look like. Not everyone has drains or a catheter, but if you will have them, you need to know how to care for them. Post-op drains are the very reason Brobe was create. Brobe has multiple JP Drain holders, including the Brobe Surgery Recovery Robe. Brobe also makes a post op drain belt that can be worn under clothes and it can be worn in the shower. 
4. Make sure your post op care team is ready: We want you to know going into it, there absolutely can be complications during surgery and during recovery, no matter how experienced your surgeon is. We have heard both good and bad stories from many customers. Those who have had bad experiences have told us they wish they had had more help with post op wound care. Someone else helping them keep their incision clean, and just generally having an extra set of eyes and hands to keep an eye on their mental and physical health. Know the signs of infection, like fever and chills, pain that doesn't get better with medicine, redness, swelling, pain, bleeding or discharge from your incisions. If you suspect an infection call your doctor right away, and if necessary head to the nearest emergency room.
5. Get your home ready: Clean, organize, do laundry, do all the things that need to be done in advance. Outsource if you need to in the weeks and months following your surgery. It can be hard to take it easy and not pick up around the house, but overdoing it can lead to major complications following surgery.
6. Products: Comfy cozy is the goal. We of course will recommend the Brobe Surgery Recovery Robe for the weeks following surgery. And our pillow that comes with a pocket that holds one of our hot/cold gel packs is so helpful too. It's going to hurt when you laugh, sneeze or cough, and using the pillow against your abdomen when you feel one coming on is helpful. You can also place the pillow with the ice pack against your incision or any other spot that is tender. 
7. Fill your prescriptions in advance: Prepare for post-op pain. Make sure you have your pain medicine prescriptions filled in advance and picked up before you go home. There's nothing worse than heading home after surgery without your pain meds and waking up in pain! It's helpful to set reminders on your phone for yourself and your caregivers to help stay on top of your pain. 
8. Wear your abdominal support garments: think of your belly binder like it is your retainer after your braces come off. You've just gotten your braces off and if you don't wear your retainer, your teeth will move. The Brobe Belly Binder Abdominal Compression has three pieces to give you placement options along your abdominal region. Follow your surgeons instructions on how long you should be wearing your belly binder.
9. Have realistic expectations for recovery: Find a good balance of movement and rest. Your medical team will help guide you on when you can move and to what level is appropriate. Being too sedentary has its own risks. 
10. Hydration and nutrition: though you may be ready to toast your besties over your new curves, wait! Right now you need nutritious meals, and plenty of H20.
Let us know if you have any questions about any of the Brobe Surgery Recovery Products. Use the chat feature on our website and a member of the Brobe Team will get back to you ASAP.
Brobe is an Austin based women owned small business founded in 2012 by Allison Schickel. The first product Allison created is the Brobe Surgery Recovery Robe, with interior pockets to hold post op drains. The Brobe originally came with a built in bra that was detachable, but after ten years, we have decided to separate the two to allow customers to mix and match sizes. 
You can find an array of post surgery recovery products by Brobe International that will help you have a more comfortable surgery recovery.