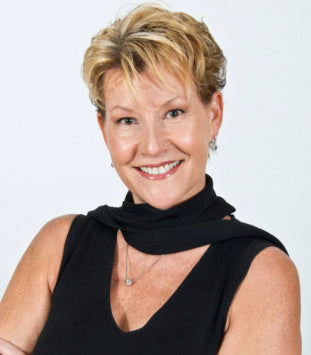 Finding Strength, Compassion, and Self-Worth in the Face of Radical Mastectomy
Lessons learned along the breast cancer journey with author and survivor, Cindy Goldsberry
"Unravel your self-worth and the magnificence of who you are from your body."
When we sat down to chat with Cindy Goldsberry for an interview, she was full of compassionate and practical advice for women battling breast cancer. Her experience as a two-time breast cancer survivor has taught her valuable lessons about sharing her pain, discovering unexpected strengths, and finding her self-worth. 
Not only is Cindy passionate about sharing her story, but she's an advocate for lifting the voices of other survivors and caregivers of breast cancer. In our interview, we talk about how her journey inspired her to lean into vulnerability and helped her build more meaningful connections with others. 
Here is our interview: 
Brobe: Hey Cindy! Thank you so much for coming in to speak with us. I guess, let's get the nitty gritty out of the way before we start to talk about the magical things you're doing now. Let's talk about your breast cancer journey. Sound good?
Cindy: Ah, yes. Straight to the point. I like that. Ha ha! Alright, let's do this!
Brobe: So, you're a twice-diagnosed survivor who underwent a radical mastectomy. When were you diagnosed and how did it happen?
Cindy Goldsberry: The first time, I was first diagnosed in 2009. Then, I was diagnosed again nine and a half years later in 2018…a year ago this month to be exact. The first time was regularly scheduled mammogram and the second was after a stereotactic biopsy. Those are no fun – just so you know!
Brobe: What surgery did you undergo?
Cindy: The first time I underwent a lumpectomy and MammoSite radiation. At that time, I opted to not undergo chemotherapy - but I did take Tamoxifen for 7 years. All genetic tests were clear. Last July, for my second stint I opted for double, radical mastectomy and two other revision surgeries (no reconstruction).
Brobe: What was the most difficult challenge you faced before, during, or after surgery?
Cindy: In the beginning, the toughest part was reconciling the loss of my breasts and dealing with some complications. Also the waiting -- whether it's for 'the news' or the opportunity to hit a new level of energy, the uncertainty is a killer. It's tough.
During and after, there are a few things competing for "most" challenging. Just sitting still while the healing is happening is tough. Keeping your attitude and joy centers healthy when you can't lift a dish or comb your hair is a challenge. Also, I didn't believe how depleting anesthesia is – but it is! Also, navigating the emo-waves of sadness and uncertainty are tough. Tougher still, is watching your loved ones and friends struggle to know how to help. It's heartbreaking because you have to watch them suffer too, and there's nothing you can do for them.
Brobe: What advice would you offer others going through breast cancer treatment and surgery?
Cindy: Work to unravel your self-worth and the true magnificence of who you are from your physical body  -- particularly how it looks and feels. Try to remember who you are is not what you look like. Take each day, one day at a time. I know it sounds cliche, but you can't push the ocean and that's what this feels like. It comes in waves.
There are bad days. There are good moments. You don't have to be a rock star with a stiff upper lift. It's okay to wallow a little. In those cases, I recommend that you literally set a timer for your pity parties so you're still in a place of integrity, being honest with yourself and allowing yourself to feel without letting feelings of hopelessness consume you! Also, don't forget or underestimate meditation, stretching and just taking up space. It's so so so good for you!
Brobe: Did you discover anything about yourself on this journey that you didn't know before?
Cindy: I didn't realize that my willingness to be open and vulnerable would be a blessing for so many others. So many people suffer with some sort of illness and so many of us suffer in silence because we think that's what strength looks like! 
It wasn't until I was strong enough to admit that I wasn't Super Woman that things really turned around for me. I was challenged, sad, and hurting. I realized and that facing this, and holding space for that truth, allowed me to share it with others. Then something interesting happened. When I shared my truth with others, it actually gave them permission to release that in their lives as well.
It really opened up a new understanding of things for me. In the US, we are attuned to the academic, data-driven information available. Our culture does little to provide much nurturing by way of body, mind and spirit. Also, even less exists to support Caregivers who are going through their own recovery. For those of us trying to be strong through the journey, there's a lot that isn't said from the perspective of the caregiver.
Brobe: Couldn't agree with you more!
Cindy: Well, that's part of the reason and focus of "A Hand to Hold." When someone you care about is seriously ill or traversing recovery, it can be difficult to know how best to support them. My intention (with Kim Gorsuch, CEO of weeva.com, is to create a work of art that is beautiful to see and hear, so that it's an experience that touches the heart and spirit.
Brobe: So what's the book about?
Cindy: As for the book itself, it's filled with personal stories from survivors, caregivers and experts – with the intent to be focused on emotional care and psycho-social support. We intend to include somewhere 50-100 stories survivors and caregivers along with a variety of resources, like you guys (Brobe) and the App "Belong.life."
This is not just an exercise in storytelling though. As just one of many others who made it through, sure we want to offer research, tips, resources but I want to offer psychosocial support of the people who have gone through cancer, and especially the caregiver experience when it comes to all types of cancer and long term illness. The experience can be therapeutic for the storyteller but sharing their story helps the caregiver reconcile their experience and empowers them to heal, too.
Brobe: Um, ok. I'm not a therapist so what exactly is psychosocial support?
Cindy: Well, a psychosocial approach to therapy looks at individuals in the context of the combined influence that psychological factors and the surrounding social environment have on their physical and mental wellness and their ability to function. This, in turn, will encourage positive recovery and strengthen their ability to deal with challenges in the future.
Brobe: Interesting. I mean, I know you went through breast cancer. But, there are a hundred ways to get your story out there. What inspired you to take action on this project?
Cindy: When I was going through cancer the first time, I didn't even realize that I hadn't spoken to anyone about it until I was in remission. As I've spoken to women, I've realized that this is not unique to me. We're so busy just charging through that we don't stop to actually process it, and then we're in some weird functional state of PTSD. A lot of people go through this.
We believe that no one could possibly understand the complexity or the weight, and we certainly don't want to burden anyone else with the heaviness. Because of the complexity of our own stories we feel alone. Completely, paralyzingly alone.
Basically, by utilizing the power of storytelling we can not only purge the paralyzing solitude of our trauma but we can then synthesize the similarities of someone else's story into our own experience and move forward.
When the Weeva format was given to me, I saw with perfect clarity what needed to happen next.
Brobe: What are you hoping to accomplish?
Cindy: I want this book to be a vessel. Storytelling is powerful, but it goes beyond that. This anthology serves to connect people to real-life stories as told through the eyes of the survivors and caregivers and the experts who work alongside them everyday. This sharing of candid, inspiring and informative messages provides encouragement, ideas and support to navigate the emotional, physical and practical implications of dealing with breast cancer, and supporting those going through it.
First we connect, encourage & inspire. Then we direct them to further connections. We want this to open channels and activate the conversations that need to happen.
Brobe: Alright, when does the book come out?
Cindy: Originally, we planned to publish in October because obviously Breast Cancer Awareness Month but since its inception, the project has expanded to include other types of cancer as well. Most likely, we will be on track for a release during the holiday season. The great thing about the Weeva format is that unlike a normal publishing schedule that can take 18 months, we can turn it around as soon as it's ready!
Brobe: We love what you're doing. So tell us, how can we help you?
Cindy: Sure, we are looking for story contributors with firsthand experience of dealing with breast cancer, whether that be Survivor, Caregiver or Expert Resource. We want them to know that curated stories will be selected and published in a pragmatic and actionable guidebook. 
We are also looking for distribution partners: organizations, hospitals & care centers. We want everyone who needs this book to know it exists, and to know where to find it.
Brobe: Oh my gosh Cindy, this is so wonderful. You're are also really active with a charity organization called, "Twist Out Cancer." Tell us a little about that.
Cindy: Sure. Twist Out Cancer is a global community for anyone touched by cancer. They host events and offer a platform, tools, and community – both online and offline – for anyone touched by cancer to feel connected to a community and take action. On their website (www.twistoutcancer.org) anyone can create a profile page and a personal Call to Action. 
Over the last 4 months, I've been working on a really special project for their "Brushes with Cancer" gala that's happening on October 20th. During this time, I've met with 32 year-old ovarian cancer survivor, Courtney. Over lunch and coffee, I've heard her story and created a custom piece of art that will be auctioned off in support cancer survivors. It is a 3' x 2.5' piece called "Taking Flight." This event has been in the US and in Canada, and first time here.
Brobe: Well, we'll definitely be putting that on the company calendar! I've taken up enough of your time. Thank you so much for sharing your experiences and for all of the incredible work that you're doing to transform the experience of recovery!
Cindy: Sure. If there's anything else I can do, please let me know. I'm thrilled to be of service.
If you or someone you know has a healing story, reach out to us or you can Contact Cindy directly at cgoldsberry@zfactorgroup.com
We'd like to thank Cindy for taking the time to talk with us and sharing her insights for Warrior Wednesday. You can find Cindy at this link, or reach out to her with your breast cancer story for her upcoming book
Cindy Goldsberry is an accomplished business strategist and author of the book ZFactor Sales Accelerator V2V: From Vendor to Value Creator, an Amazon Best Seller for Sales Teams. She is the Vice Chair of the Board of Goodwill Industries of Central Texas and serves on the Steering Committee of Women@Austin, an organization supporting female entrepreneurs.
For more survivor stories, read Michelle's story, Courtney's story, and the entire collection of Wednesday Warriors here.
Warrior Wednesday features brave and inspiring stories of breast cancer survivors.