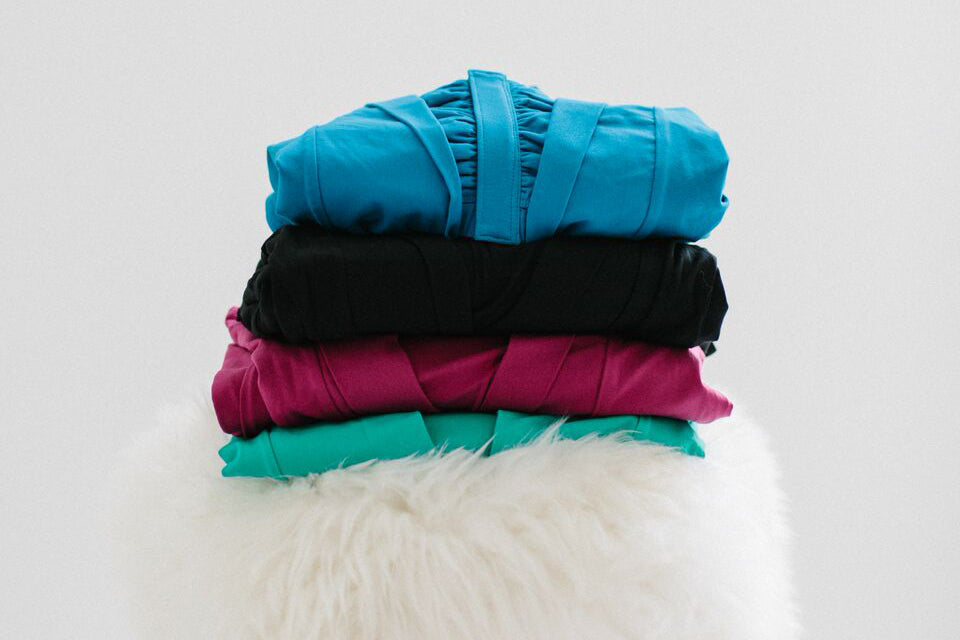 Some of our Favorite Brobe Testimonials
We love when our customers share how the Brobes and Brobe products impact their recovery. It's so special to know this garment is doing more than just clothing women, it's offering dignity, hope, and beauty when they need it the most. We have so many touching stories that come across our desk, it's often hard to pick just which ones to share, but we have rounded up a few of our favorites.
To start, Kendra Scott shares how gifting the Recovery Brobe meant so much to her and her best friend:
Customers share their Recovery Brobe stories:
10.
"My mother received so many compliments on her beautiful Brobe from nurses and doctors alike. Every drain-wearer NEEDS this to make those days after surgery more pleasant, bearable, and overall lovely. And just think of all the things she can carry in those pockets after her drains are removed! Fabulous product." - Mary H.
9.
"I've known I've had the BRCA 1 mutation since 2009. My family has been very supportive with my decision to undergo prophylactic double mastectomy with reconstruction (DIEP). When I scheduled my surgery, my cousin, who is a nurse and lives in Austin, TX, called and asked my dress size and nothing else. A few days later and a week before surgery, I received a package.
After opening, I just cried. This beautiful poppy red robe with a bra attached and secret little pockets for drains hidden inside! This was such a thoughtful gift. I felt like it was made just for ME! I'd never heard of the Recovery Brobe, but I knew right away how awesome it was, especially after shopping in department stores for something to wear in the hospital - with no luck.
There was also a shower belt... It looked a little funny and I really wasn't sure about using it. Well, this thing was a life saver! It's nice having someone help you in the shower, but being able to shower independently, ALONE - now that's an accomplishment. This shower belt made that possible. I truly can't imagine going through this procedure (and the next) without them." - Candice Mallory
8.
"I can not tell you how much I liked my Brobe. My husband purchased it for me at the gift shop in the Huntsville Hospital [in] Huntsville, Texas. I wore it home and to my doctor's office for my first visits. My doctor was also very impressed with it. He had no idea the gift shop had such a thing. He is now recommending it to his patients.I can not tell you how much I liked the Brobe and how many compliments I got on it. The thought put into it was a blessing, considering what we are going through as we come out of these surgeries. Thanks." - Pat, Huntsville, TX
7.
"Hello, me and my sister had ordered your Recovery Brobe for my mother, who is currently battling Stage 3 breast cancer. (I believe you even spoke with my sister over the phone.) My mother is currently in the hospital undergoing her now 10th surgery and she has been having a very difficult time.
When we saw your product, we instantly thought, 'This is perfect,' and ordered the same day. We greatly appreciate how quickly you sent it to us. Tonight, after she underwent another surgery and checking with her RN, they said it was perfect and that she could wear it instead of the hospital gowns she has been in for the last week and a half.Once she opened it, she instantly started crying.
She said it was beautiful and felt amazing. Then when we showed her everything it had for her, she started crying again. It fit perfectly... We just wanted to sent a message thanking you for everything. In this difficult journey it was amazing to see her smile and to see her cry from pure joy instead of fear and pain. There are truly no words for how grateful we are." - Steph, AZ
6.
"The Brobe was the one bright thing that helped me through my bi-lateral mastectomy. Having the Brobe to wear home from the hospital with the pockets for the drain tubes and the fact that it was pretty made me feel good about myself.  For the next 7 days, I lived in the Brobe, including sleeping in it.  It was so comfortable and a life saver not having to worry about the drain tubes. It washed beautifully. I also wore it for my follow-up appointment to remove my drain tubes.  My surgeon and his staff were totally impressed with the Brobe." - JS, Huntsville, TX
5.
"Three weeks ago, I had a mastectomy and it was my daughter that gave me The Brobe when I returned home from the hospital. I was in pain, both emotionally and physically, and the bra and device given to me at the hospital for support and to hold my drain were uncomfortable and unattractive.
The Brobe provided the support I needed, pockets for the drain, and was so comfortable and pretty. I'm still wearing it today and will continue to wear it. Allison has created not only a much needed product, but something that truly makes a difference is woman's lives, bringing them comfort in a time of fear, uncertainty and pain." - P. Fisher, Houston, TX
4.
"When your best friend has a radical mastectomy, it is devastating. I didn't really know how to be there completely for her.  One thing I could do though was provide comfort during a tough time by sharing the Brobe. My dear friend was able to wrap herself in the soft goodness of the Brobe and feel comfort in a time of fear and sadness. Thank you, Allison, for creating a wonderful piece of comfort and goodness to share with friends in times of needs." - T. Hill
3.
"As I was diagnosed with breast cancer last September, just before my 46th birthday, I did what I always did when I need to prepare my head for the upcoming days. I studied the book I was given by my care providers and I googled information about mastectomies. I am one who reads to educate myself, but knows to get answers from my physicians and not from everything I google. I discovered many youtube videos of women who have had mastectomies, knowing each of their stories were different.
One night I stumbled across a video and a woman showed her "Must Have" for her surgeries. As soon as I learned about the Brobe, I knew I had to have it. I ordered one within the next couple of days. I used it for the multiple surgeries I had to have. What a lifesaver it has been!
The ease of use with the velcro and simple buttons and tie strings helped me feel better that I didn't have to continually ask others for help dressing and undressing. The pockets for my drains were a life saver! I wore this everywhere. I even wore it to the doctor's office and received multiple compliments. I have kept it for 1 more surgery, then I plan to pass this along to the next person in need of the Brobe!" - Jennifer, Midlothian, VA
2.
"I absolutely loved my BROBE during my recent double mascectomy! I wore it even more after my initial reconstruction surgery! The material was so very comfortable and the pockets for the drains were at the right place so the drains didn't pull at my skin. I am so thankful I found that robe before this journey began. I literally wore it for days on end!" - Sandi W.
1.
"My 4 daughters chipped in to buy me a Brobe after my daughter, Kate, discovered it existed. As soon as I opened the package, I was impressed by the feel of the fabric. Who wouldn't want to be wrapped up in that soft, jersey fabric all the time??!! It feels like silk against my skin. Once I had my mastectomy, I really started to treasure my Brobe and realize how much care had gone into its creation and design.
As far as the inner bra goes, it is ingenious to have slots for ice packs, something I needed on an ongoing basis because of swelling. I also appreciated the secure and comforting feeling that having the inner bra gave me. I just wasn't ready for loose fabric to rub against my skin and bandage. The front-opening design with velcro closure was easy for me to get on and off. I really can't believe that you even thought of a pocket for the drain bulb!
During the times that my Brobe needed laundering, I hated how I had to clip the drain onto other clothing or it would dangle out the bottom of my clothes.Thank you, thank you for such a fabulous piece of clothing that made me feel wrapped up in comfort, care, and love at a very difficult time in my life!!" - Yvonne, British Columbia, Canada