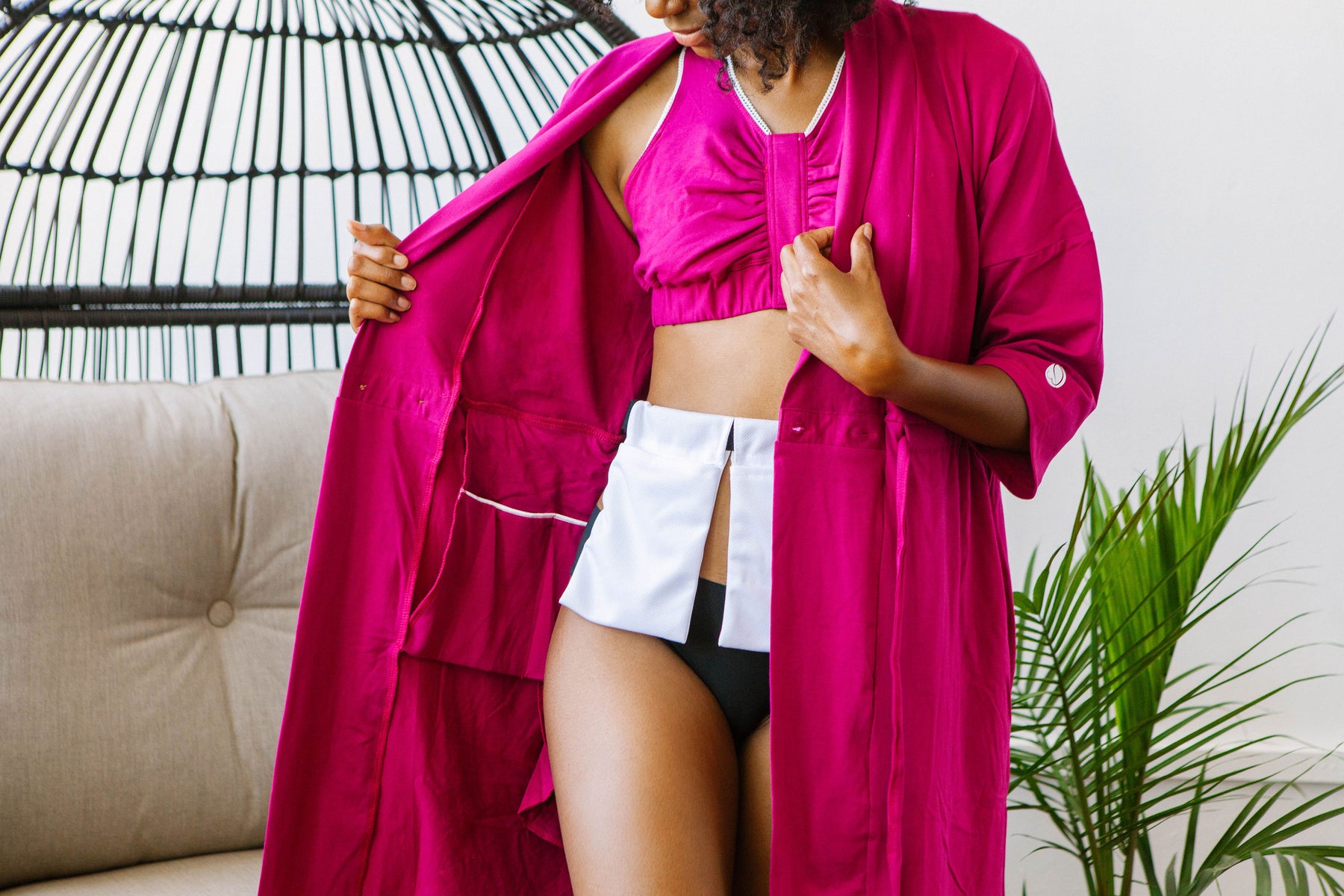 Brobe: The ORIGINAL Surgery Recovery Robe
When you go through major surgery, you have one thing on your mind: healing. But the road to recovery isn't always smooth. It's oftentimes filled with challenges and obstacles that may make the road seem long and difficult. 
At Brobe, we want to make that journey a little easier. Since our humble beginnings creating the first surgery recovery robe, we've only had one goal— help others heal comfortably and in style. 
Here's what sets us apart from other brands out there that have created lookalike robes.
The Brobe is the ultimate post-surgery recovery robe. 
Our goal was to create a garment that served three purposes. First, we wanted the robe to be functional and solve the issue of the cumbersome post op drains getting in the way after surgery. Second, we wanted to provide women with a comfortable alternative to hospital gowns and other scratchy post-surgical wear that you often see. Lastly, our hope with the Brobe was to make women feel beautiful. In the weeks following surgery, it's not uncommon to lose self-esteem and to feel incomplete. We want to restore that confidence with the Brobe's chic and stylish design.
Here are some of our favorite Brobe features:
Interior pockets on each side to hold JP

 

drains

A detachable front closing bra to wear throughout the day, which is fitted with an easy-to-use velcro closure and built-in pockets for ice packs or a prosthetic breast 

Three-quarter length sleeves for easy IV access during treatments or after surgery

Luxurious, durable fabric for comfort and support 
Through trial and error, we've perfected this garment to be everything a woman needs it to be after surgery: stylish and useful, comfortable and durable, and something that you'll want to wear long after you're healed. 
Brobe vs. Our Competitors: 5 Things That Set Us Apart
Since the Brobe first hit the market back in 2012, several other companies have developed similar products. Unfortunately, many of these companies have not put the same thought and care into their robes, choosing to maximize their bottom line over customer comfort. 
Here at Brobe, we like to think that there are five things that set us apart from the rest. 
1. Quality: Soft, Durable Materials That Last
The quality of our products is unmatched. We have meticulously chosen our fabrics and materials to ensure that they feel good when rubbing against surgical wounds or sensitive areas. Your comfort is what matters most during the recovery process, which is why these details are important. Also, we know that sometimes multiple surgeries are required, so our robe is built for use far beyond the initial recovery period. Even after hundreds of washes, your Brobe is the robe to support you through it all. 
Our attention to quality and detail means our robes can cost a little more than our competitors, but we refuse to use lower quality fabric, just to lower the price.  We pass along savings to our customers when we can, so you can feel confident you are getting the best quality product at the best price when you buy from Brobe.  
2. A Full Line of Recovery Products
Though we love our Brobe, we'll be the first to say that it isn't the only thing you'll need during your recovery. That's why we've devoted so much time to developing an entire line of post surgery recovery products geared towards cancer and surgery recovery. From products like our JP drain belt to our mastectomy pillow, we are constantly trying to innovate to bring you products to aid healing. 
You may not have the time to search around for everything you need, so we've also created product bundles to make shopping and gift giving easy. This means you can purchase all of your post-surgery essentials all at once! Many of our customers are shopping for a gift for a friend or loved one diagnosed with breast cancer who is about to undergo a mastectomy.
3. Giving Back
Brobe International is more than a business. We are a mission. 
We want to give back to the community, so we've made it easy for people to donate money towards robes for those who need them most. Brobe currently has two donation programs: one for the original Brobe and a second for the Elliott Superhero Robe, which was designed for children facing chronic illnesses. Through these programs, we've been able to provide comfort to women and children going through cancer, surgeries, and other chronic illnesses.
4. Community
Brobe is more than just a product— we are a community. We love connecting with our customers and fostering a sense of family and belonging. To learn more about the Brobe community, check out our Instagram or Facebook page!
5. A Team that Cares
The Brobe was born from love, friendship, and a desire to help those going through what may very well be the most difficult time in their life. 
Those same things are what keep us going today. With every Brobe order, you can be sure that there's a team on the other side that cares about you and your story. We aren't just another big box online brand— we're a small team of devoted people hoping to make a difference in your life. 
The Brobe Team goes above and beyond to make your shopping experience a seamless one. We know you are likely shopping during a stressful and scary time, so we want to make this part of the journey as easy as possible. When you use the chat feature on our website, our team member receives a text message and we do our best to answer your questions 24 hours a day.