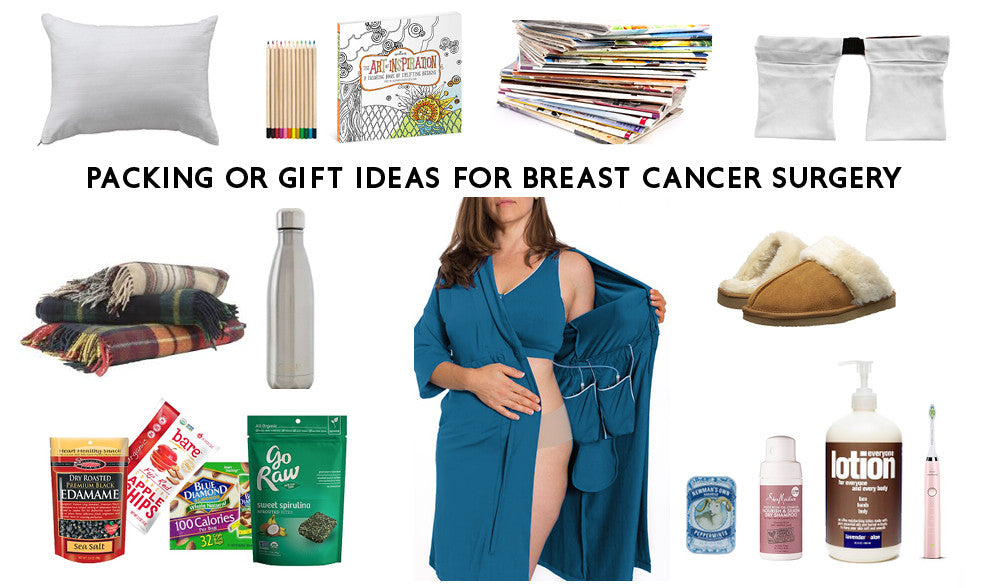 What to Pack for Mastectomy Surgery
If you're preparing to undergo a mastectomy or other breast surgery, there's probably a lot going through your mind— including what you should bring when it's time to head to the hospital. Doing a little planning ahead of time will ensure that you bring everything you need to have a comfortable recovery. To help you out, we've compiled a checklist of some items you'll want to be sure to pack for your mastectomy. 
Clothing to pack for mastectomy surgery
After your mastectomy, you're going to have soreness and a limited range of motion that make putting on your normal clothes nearly impossible. Be sure to plan for this ahead of time and pack comfortable clothing options that are also easy to put on.
The Recovery Brobe 
This bra & robe combination is soft, durable, and has built-in pockets for post-surgical drains. The bra features an easy velcro front closure and pockets for ice packs. The robe can easily be detached from the bra for everyday wear. 

Button-up shirts and sweater
As we mentioned above, putting on your normal clothes can be a real challenge. Button-up tops are easy to slip on and off without too much arm movement. 
Comfy bottoms and extra undies
Zippered pants or tight bottoms like leggings may be difficult to get on and off. Opt for loose-fitting bottoms with an elastic waistband, instead. Be sure to throw your favorite comfy undies in your bag as well. 
Slippers or snuggly socks 
Keep those toes warm, plus add a little joy to your day with fun colored or super fuzzy socks or slippers. If you go with slippers, it may be wise to choose a slipper with a rubber bottom so you can even wear them around your hospital room. 
JP drain belt 
Once able to shower post-surgery, most women have drains that must accompany them everywhere (yes, even the shower). The Brobe JP drain belt allows you to take your drains with you wherever you go without the hassle of having to hold or pin them.
Hygiene items to pack for surgery
Along with the normal hygiene items that are a part of your daily routine, consider adding the following to your toiletry bag.
Face/body wipes 
Wipes are a great option for when you need a quick freshen up without having to shower, or to freshen up your face without having to get up. Opt for natural options without artificial fragrances, which may irritate skin. 
Dry shampoo 
You may not be able to shower for a couple of days after surgery. A dry shampoo "wash" is a great option to help you feel refreshed and new again. 
Battery-powered toothbrush 
Even small motions and movements may be painful or difficult initially, this is a simple item that can get the job done without much movement. 
All-natural lip balm
Anesthesia and some pain meds will make your lips dry. Stick with a natural, unscented product as the senses and skin may be sensitive post-surgery. Ingredients like shea butter, coconut oil, and aloe are natural and healing. 
Moisturizer
You may also find that your hands are extra dry in a hospital setting. Hand cream or lotion can do wonders to replenish your skin's natural moisture.
Accessories and entertainment to pack for surgery
Here are some accessories and entertainment that you'll want to be sure to throw in your bag as well.  
Soft blanket 
Those starched sheets don't always cut it when you're already uncomfortable, a cozy blanket will help keep you warm in that often chilly hospital room. 
Small pillow
A small pillow is perfect for body support when needed without the fuss of a full-sized pillow. These are great for placing under your arm for support, or between the seatbelt and your chest on the way home from the hospital. Some pillows, like the Brobe's Comfort Pillow, hold cold packs/ hot packs for targeted thermal therapy relief. 
Entertainment
Your hospital stay may last a few days, so you'll want to be sure to pack items to keep your mind occupied. Some popular ideas include:
Music

: Make sure you have your favorites downloaded on your phone or tablet. You can even bring a small speaker to play it aloud. 

Books and magazines

: Bring a physical book or magazine, or download your favorites on an eReader before you leave home.

Brain games

: Sudoku, crosswords, word search are good options. 

Coloring books and coloring supplies

: Studies have shown that coloring provides positive therapeutic effects. The simple, peaceful activity allows a person to

zone out and keeps their mind from negative thoughts

. 
Journal 
If writing is your way of expressing yourself, this is great for processing your feelings and what you've been through.
Chargers
Be sure to pack chargers for any electronics that you bring along, including your phone. Extra-long chargers are a plus, as they prevent you from over-extending to reach the nearest plug.  
Eye mask and earplugs
With beeping machines and lights that stay on all night, it can be difficult to get a good night's rest in a hospital room. Earplugs and an eye mask help in blocking out loud noises and bright lights that may bother you. 
Snacks and food items to pack
Hospital food isn't known for being the best. Be sure to pack a few things to graze on during your stay!
Healthy snacks 
Though often taste buds are off and stomachs are not often craving the usual after a surgery, it's always good to have a few healthy options in case you get a snack urge. Good choices include:
Dried fruits

Nuts

Almond butter and crackers

Fresh fruit

Dark chocolate

Granola bars 
Water bottle 
Water is essential to recovery, and having a large insulated water bottle helps you remember to keep yourself hydrated without having to refill a small glass regularly. 
Mints 
Between hospital food and dry mouth, these will be nice to have bedside. 
A small amount of cash
Having a few dollars in small bills and coins comes in handy in a hospital. Sometimes a craving hits and the only solution is a walk to the vending machine! 
Conclusion 
There may be a few items that you want to add to this list, so be sure to jot those down ahead of time so that they make it in your bag. As always, don't be afraid to ask questions beforehand— your doctor may have tips or give you a list of additional items to bring. Remember, the more prepared you are, the better your chances are at a smooth sailing recovery.